"Antigamente os cartazes nas ruas com rostos de criminosos oferecia recompensas, hoje em dia pede votos...
E o pior é que o BRASILEIRO dá...
Presence at swearing-in would revive pressure on Theresa May to offer Ukip leader some role in US relations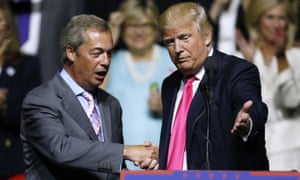 Nigel Farage forged his friendship with Donald Trump after speaking at a campaign rally in Jackson, Mississippi.
Photograph: Jonathan Bachman/Getty Images
Nigel Farage is anticipating an invitation to Donald Trump's inauguration as the 45th president of the United States, sources have indicated, as it was confirmed the interim Ukip leader is poised to launch an eighth bid to become an MP.
While the UK government plans to invite the president-elect to meet the Queen at Windsor Castle, the outgoing Ukip leader hopes to fly to Washington to see Trump being sworn-in on 20 January.
His presence at the event would, Ukip sources said, be further evidence of Farage's close relationship with Trump, who earlier this month defeated Hillary Clinton in the US presidential election
It would also further irk No 10, which has rejected Farage's offers to act as a go-between with the Tump administration. Farage and his Ukip colleagues were the first British political figures to meet Trump following his election after supporting the billionaire during his campaign.